The world has gone online. Why hasn't your company?
Overcoming the "can't do" mindset.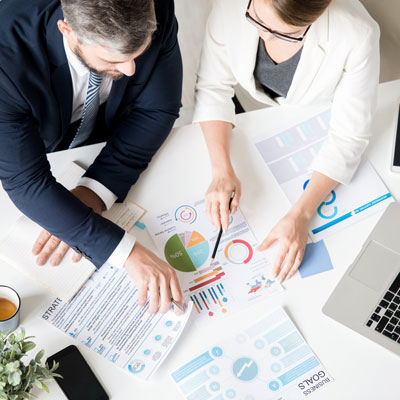 We all know that due to "recent events" everyone has been forced to rethink their routine. The way we socialize, the way we get groceries – even how we start our day. As a result, doing business "Online" is no longer an item on your corporate "want to do" list. It is a necessity, and it is now on your "have to do" list.
Here are Seven Steps to get your company's online presence geared for success.
Step 1: Drop the excuses.
As consultants, BFD has heard all the excuses:
Our company is different…
Our products aren't like other companies…
Our catalog is too diverse… (Too big)
Our pricing is too complex…
Our competitors will have too much access to our offerings…
But, the reality is:
Your company is unique – and it is time to demonstrate that online.
No matter how custom your product is, we can still get it "online".
It doesn't matter how big or diverse your product catalog is. (That is why databases were invented…)
If you can calculate your price inhouse, we can do it online. (In fact; A lot faster and a lot more accurate.)
Your competitors already have access to your offerings. (Trust us, they do.)
Whatever you think the reason is you "can't go online", understand that it is simply the fear of change that is preventing your company from moving forward.
Face the fear.
Accept the challenge.
Take your first step forward.
Step 2: Build your team and partner with experts.
We know you think you can do this all inhouse with existing talent. But, those employees already have other jobs to do – and as talented as they are – they are not experts in online development. Online technology changes so rapidly, you need professionals who:
Know the current trends.
Know which technologies to use.
Know how to structure content for humans AND robots. (Think SEO…)
Know how to write for SEO!
Can see past "the ask" and develop a better solution.
Build a small team to oversee your online development who acts as a liaison between the developer and your company.
NOTE: When selecting a development partner, we strongly recommend Big Fat Designs. (Perhaps you have heard of them?)
Step 3: Start small.
The first step is to redo/update your website. (Yes, this is "starting small".) Your website needs to be retooled for your new approach to doing business online. This includes:
Structuring the content to incorporate your products and services better. Including the capability to cross sell.
Rewriting the site to psychologically persuade your visitors into action. There are dozens of ways to influence your website traffic, from the words you choose for links to the graphic design of the site. Time to use science to help bring in sales.
Increase your calls to action. The days of "they can click the Contact Us link if they want to call us" are gone. Research has shown that placing subtle reminders/links throughout your site will increase conversions 10-fold. (See science above…)
Rethinking mobile. Now that you have better content and great calls to action – you also need to think how this plays out on phones and tablets. Optimizing this experience now, will help with what's to come.
Step 4: Build a library.
We know your organization has a TON of literature that is not making its way online. Time to rethink that. The only reason it shouldn't be online is if it is completely obsolete. (As in: a customer hasn't asked to see it in at least 10 years.)
A quality file library is an important tool for connecting with both existing customers AND prospects. It helps your support staff by allowing your customers to find the documents they need on their own and shows your prospects how easy doing business with you will be.
What you should start collecting / producing:
Spec sheets on all your products.
Sell sheets on your services.
Technical drawings of your products. (This includes both PDF versions as well as various CAD formats.)
Product photography (Especially true if you do business with a lot of vendors…)
Branding guides (If customers reuse your brand or products in assemblies)
Basically – any PDF version of any catalog, brochure, handout, etc.
Step 5: Develop a Custom Application.
Step 5 is usually the most daunting and is confronted by a whole host of new excuses. However, this is arguably the most important piece and the keystone to the future of your company. By developing a quality, custom application, you will revolutionize the way you do business, and you will wonder how you ever did business without it.
Now, you ask: What is a custom application?
A custom application is specialized software that solves a business challenge.
< Learn More >
It can be as simple as an online form or as complex as an online product configurator. The software is custom because it solves an issue that standard, off-the-shelf software cannot. What you can develop is limitless. (Learn more about BFD's Custom Application Service here.)
Depending on the type of tool you develop it can be:
Open: Available for anyone to use.
Gated: Available if the user gives you some information first: Name, Email, etc. (Think: Lead Generation!)
Secure: Available to select users. (Users you have granted access to.)
Or any combination of the above.
Some examples of custom applicatons to get you thinking:
FTP Portal: A place where customers/vendors can post files (drawings, work orders, estimates, etc)
Vendor Portal: A secure website where you vendors can

Download literature
Download photos and videos
Download estimates
View past orders

Pricing Calculator/Configurator: A website tool to allow users to customize your product(s) and save an estimate on their own. (Remember; No excuses! No matter how complex, this can be built! Read about LZR Fits success story here.)
The best approach is to identify a common customer service issue and develop a solution based on solving that problem. Identify:
Who will use the app?
How will it be used?
What is the main problem we are addressing?
Why won't a commercial solution work?
Step 6: Marketing Integration.
All the pieces are in place, but who is reading your content and using your application? Furthermore, how are you telling people all you have to offer?
You need a comprehensive marketing platform that allows you to communicate with your customers across multiple channels. And - You need good reporting and analytics tools to research your traffic and measure your ROI. There are several platforms out there, but Big Fat Designs has partnered with SharpSpring because it is the most comprehensive, powerful, and incredibly affordable platform out there.
By integrating the SharpSpring platform you can:
Create Forms for Lead Generation
Identify Leads with Visitor IDs - See what leads are visiting your site, when and for how long.
Monitor your social media and post to multiple platforms at the same time.
Integrate Chat Bots for dynamic – real-time - conversations
Launch, manage and track, email campaigns
Utilize drip campaigns to improve conversion rates with lead nurturing
Run detailed reports on marketing campaigns for end-to-end ROI
Use built-in or 3rd party CRMs
Integrating a marketing platform into your website is the key fertilizer for corporate growth. It gives your staff more channels of communication while providing valuable reporting on your customer's interactions.
Learn more about SharpSpring and our Automated Marketing Services
Step 7: Continue to improve.
Congratulations! You have made it this far! Now, circle back with your team to Step 3. (The Website) Recheck the content. See what is working and not working. Polish the text. Refine the content. Update the library. Improve your app.
Continually improving your company's online content will develop an experience your customers and employees can rely upon – which will only serve to strengthen your brand and improve sales.
But start now! If you don't, your competitor will.
We want to partner with you.
We would like to help propel your business to new heights.
Tell us about your business goals and we will get back to you as soon as possible.